Enrichment
At WSE we firmly believe in educating the whole child and we are proud of the wide range of opportunities we are able to offer to support each student's personal development. We want every student to be able to take advantage of the fantastic opportunities we provide.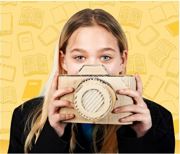 We believe that every student has a God-given talent and one that may not be taught by even the broadest of mainstream curriculums. Therefore, we have developed a rich and varied package of after-school enrichment activities that are available for all students from Year 7 – 11 to afford them the opportunity to continue to experience and develop their skills outside the classroom.
We offer all the traditional after-school sporting and performing arts activities you would expect to see in any great school, but also some rather unusual opportunities; you just never know where your talent may lie! Ultimate Frisbee, fencing, kickboxing, puppet-making, the list goes on. This is particularly important when students reach Key Stage Four and will no longer study all the subjects on offer at Key Stage Three.
Our enrichment offer is updated three times a year, allowing students to try a broader range of activities and develop their passions.
Autumn enrichments 2021
We are excited to launch our autumn enrichment programme. The full enrichment programme will run from Monday 13th September, with the exceptions of cookery which will begin from 20th September and the homework, film and games clubs which are available all year (and have therefore already started).
Enrichment allocations will be finalised on Monday 13th September and letters will be issued to students by Tuesday 14th September. Most of our clubs no longer have limited spaces now that the requirement to work in bubbles has been removed, therefore for Monday and Tuesday next week, please attend the enrichment club you have selected. Table tennis and Sew What have limited numbers and in the event that we are oversubscribed during these two days (prior to enrichment allocations being completed by us), we will adapt and discuss alternatives with students to ensure everyone is able to participate in an activity they will enjoy.