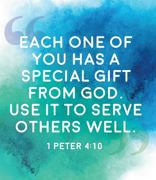 Our vision is rooted in Christian beliefs and values whereby we expect our students to use their developing gifts, talents and character to serve others in the local community and beyond. (1 Peter 4:10).
As a Church of England School our ethos is underpinned by Christian values and principles and embraces the Church of England vision for young people, a vision of 'human flourishing for all', of a life lived in all its fullness (John 10:10).
Our vision is enacted by way of every member of staff, whatever their role, working to safeguard the wellbeing of our students and to maximise their progress. Of equal importance for us is their personal and spiritual growth; self-discipline and the self-discovery of their passions and God - given talents. Every member of our school is treated with dignity and respect and is shown care and consideration.
Our Christian values are our lived reality; informing all decisions; evident in all our interactions; shaping the daily life of our school community.
Our values provide us with a means to:
Ensure everyone feels included and valued.
Offer strong pastoral support for students and staff.
Provide opportunities for reflection and spiritual development.
Encourage strong personal relationships rooted in mutual respect.
Promote justice, truth and love for all people.
Foster a climate of love, compassion and reconciliation.
Celebrate the diversity within the school community.
WSE Core Values
Core Values

Word Of God

Generosity

is our first core value because
we believe that we all can give from our heart; through acts of love, compassion
and kindness.

Or Give and there will be gifts for you Luke 6:36-38

Respect

This is our second core value because
we believe that people are made in the image of God, that each one of us is special,
our opinion matters and our contribution
is valued.

"All humans were made in the image of God" Genesis 1:26-27

Aspiration

This is our third core value because we believe we all have the potential to become the best version of ourselves, that we are deserving of this, and that this enables us
to serve others well.

"Let your light shine before men, that they may see your good works"

Matthew 5:16

Courage

This is our fourth core value because we believe it gives us the confidence and conviction to do what is right regardless
of the consequences.

"Be strong and of good courage…for the LORD your God… will not leave you nor forsake you"

Deuteronomy 31:6

Empathy

This is our fifth core value because we believe in the importance of understanding the thoughts and feelings of others in order to reflect God's love and compassion.

"Do for others what you want them to do for you"

Matthew 7:12